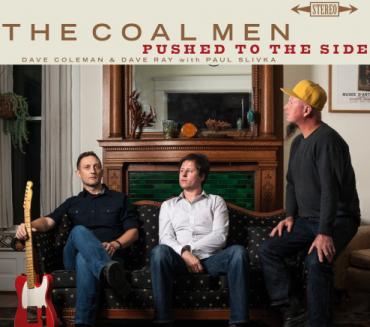 With so much roots music coming out of Nashville these days, it's tough to stand out. But when you hear the emotional depth that comes out of the songs written by The Coal Men, you won't soon forget these guys. The trio is Dave Coleman, Dave Ray and Paul Slivka, and they've got some serious history together, which comes out on their fifth record Pushed to the Side. Their sound is deeply masculine, soulful and dark, and they don't shy away from the unflattering parts of life. Pushed to the Side is rife with stories about falling short, giving up and feeling alone, but it also has a sexy moodiness that makes you feel like a badass just for listening to it.
Title track "Pushed to the Side" has a noir tone to it that's undeniably alluring. It's a song about heartbreak, but it won't bum you out. Instead, it'll make you want to dig your heels into the dirt and keep on moving. Coleman's voice is low and slow, with a subtle charisma that sounds great on the bigger, more Springsteen-level pop rock tunes like "The Payoff", and the worn-in country narratives like "Willy Jett".
This range is displayed from start to finish on Pushed to the Side. The band taps into their catchy, hook-heavy skills, and then devotes ample time to story telling and character development on the rootsier tunes. "Fast Rider" is a sultry country rocker with an ass-shaker of a guitar melody. "Faithless Eyes" is a similarly lusty track with a classic country sound. "Travis" takes on a bluesier feel for a story about a guy who lost his way, and "Depreciate" is a gut punch of sadness about what happens when you're reaching the end of the road. Pushed to the Side is a country record made by three guys who clearly have a deep appreciation for country music, and for that, it deserves your attention.