THE COAL MEN RETURN WITH EVERETT
ACCLAIMED NASHVILLE ROOTS ROCK TRIO ANNOUNCE
LONG-AWAITED SIXTH STUDIO ALBUM
EVERETT ARRIVES VIA VASKALEEDEZ RECORDS ON
FRIDAY, MARCH 29, 2024
Nashville, TN (November 17, 2023)–Acclaimed Nashville roots rock trio The Coal Men have announced the arrival of their long-awaited sixth album, Everett, arriving via Vaskaleedez Records on Friday, March 29th, 2024. Pre-orders will be available Monday, Nov. 27.

Produced by The Coal Men's founding guitarist/vocalist/songwriter Dave Coleman at his Howard's Apartment Studio in Inglewood, TN, Everett is The Coal Men's first full-length release in nearly eight years. The album sees the long-running trio – comprising Coleman, co-founding drummer/backing vocalist Dave Ray, and bass guitarist Paul Slivka (Tommy Conwell and the Young Rumblers) – fully embracing their streamlined electric guitar-bass-and-drums approach adding only accent melodies and sustain textures from a 1950s Everett upright piano Coleman purchased from Nashville's Downtown Presbyterian Church. As played by Jen Gunderman (Sheryl Crow, The Jayhawks), Lane Kiefling (solo artist, and piano tuner of the Everett), and Coleman, the addition of the upright epitomizes the inventive production style Coleman has developed at his popular Howard's Apartment Studio while also bringing a distinctive emotional color to his ever-expressive songcraft.

Everett is heralded by the strutting first single, "Black Cat," which will be available everywhere Jan. 19. An official music video featuring moving 8mm portraits of the band will premiere in January as well.

"'Black Cat' is a commentary of a dangerous but magnetic attraction," says Coleman. "Written with Taylor Bates, this song is The Coal Men's attempt to blend the music of Tony Joe White and Marc Bolan of T-Rex. Howard's Apartment Studio features at least five felines, so their swagger is an influence."

From there, the bittersweet "Rather Be Right" and the anthemic "cry of appreciation" to Joe Strummer, "Come Back Joe," Coleman draws simple, straightforward character studies exploring the unique relationships between people and the places they inhabit, some deeply personal, others more hyperbolic, but all richly constructed and resonant with the veteran musician/songwriter's two-decades-plus adventures in Nashville and beyond.

"We've kept our course in these nearly 25 years as a band and I hope some folks find this record relevant and inspiring in the time it's released," says Coleman. "The voices, songs, playing, and recordings are curated by experience and genuinely our own. I hope they resonate with listeners who find it refreshing."

Hailed by Todd Snider as "one of Americana music's great songwriters," Dave Coleman grew up near the Big South Fork National River and Recreation Area in rural East Tennessee, where he thought he'd join his mother as a park ranger, but once he hit the stage in a local band, music took over. Coleman headed to Nashville where he graduated from Belmont University while writing and gigging with legendary guitarist Duane Jarvis (Lucinda Williams, John Prine, Dwight Yoakum). By 20, he had already begun making his name around Music City, hired to write songs for famed publisher Acuff-Rose Music while building up work as a guitarist alongside Matthew Ryan, Stephen Simmons, Jessi Alexander, and a young Taylor Swift.

In 1999, Coleman and Dave Ray founded The Coal Men and quickly staked a claim among Nashville's finest outfits, earning critical applause and the support of such like-minded artists and musical heroes as Snider, The Delevantes' Bob Delevante, Buddy Miller, and the late, great John Prine for their amplified brand of evocative Americana. Since then, the band – joined in 2012 by bass guitarist Paul Slivka – have steadily unleashed a series of critically acclaimed albums, including 2013's Escalator and 2016's Pushed To The Side, while also sharing stages with such like-minded acts as Snider, Avett Brothers, Darrell Scott, and Chris Knight, among others. Now, with the long-awaited Everett, The Coal Men are poised to climb even higher, fully manifesting the rich craft and triumphant energy that has defined the band since its very start.
TRACKLIST:
Black Cat
Radio Bell
Rather Be Right 
Love This Town 
Heart Exposed 
Come Back Joe 
Johnny Sins
I Hear Trains
Silver Tails
Accidental Memory
Hammer Like Bill

Dave Coleman – guitar & vocals 
Dave Ray – drums & backing vocals 
Paul Slivka – bass
w/ Jen Gunderman, Lane Kiefling, and Dave Coleman – Everett piano

Produced, recorded and mixed by Dave Coleman 
at Howard's Apartment Studio, Inglewood, TN
Mastered by Alex McCullough at True East Mastering, Donelson, TN
Design and Photography by Bob Delevante

CONNECT WITH THE COAL MEN
THECOALMEN.COM | FACEBOOK | YOUTUBE |INSTAGRAM
HOWARDSAPT.COM

Publicity: Mike Farley/Michael J. Media Group/608-848-9707/ mike@michaeljmedia.com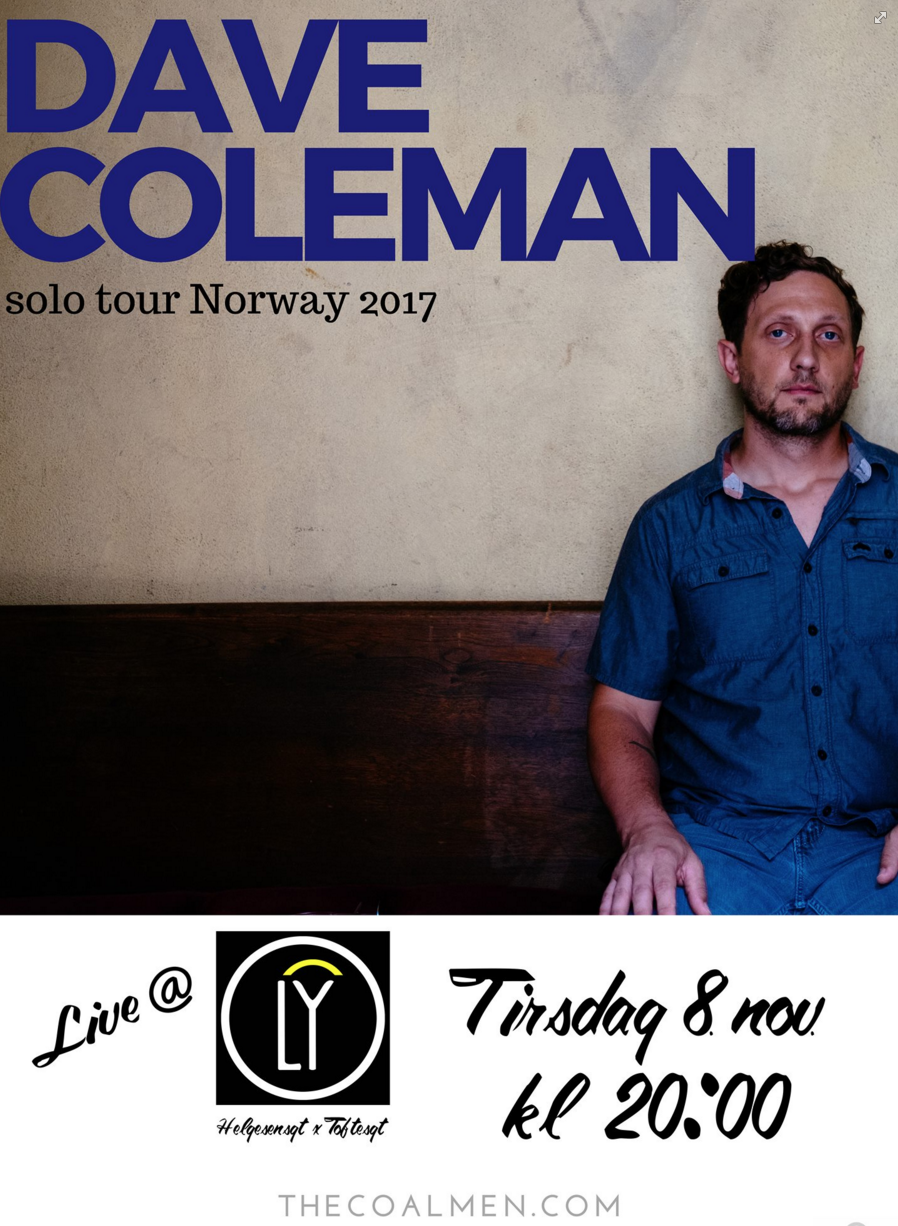 DAVE COLEMAN – NORWAY solo tour 2017 – Nov 7-12
Nov 7 – Trondheim
House concert – Morten Kjærvik – 7 pm
Nov 8 – Oslo
Ly (venue) Toftesgate 41 Oslo (Grunerløkka)
Nov 9 – Bergen
House concert – Dust of Daylight hosted by Rune Letrud – 8 pm
Nov 11 – Karmøy
House concert – Hallgeir
Nov 12 – Haugesund
House concert- 7pm –Camilla Sørhus (cupublicity@ymail.com)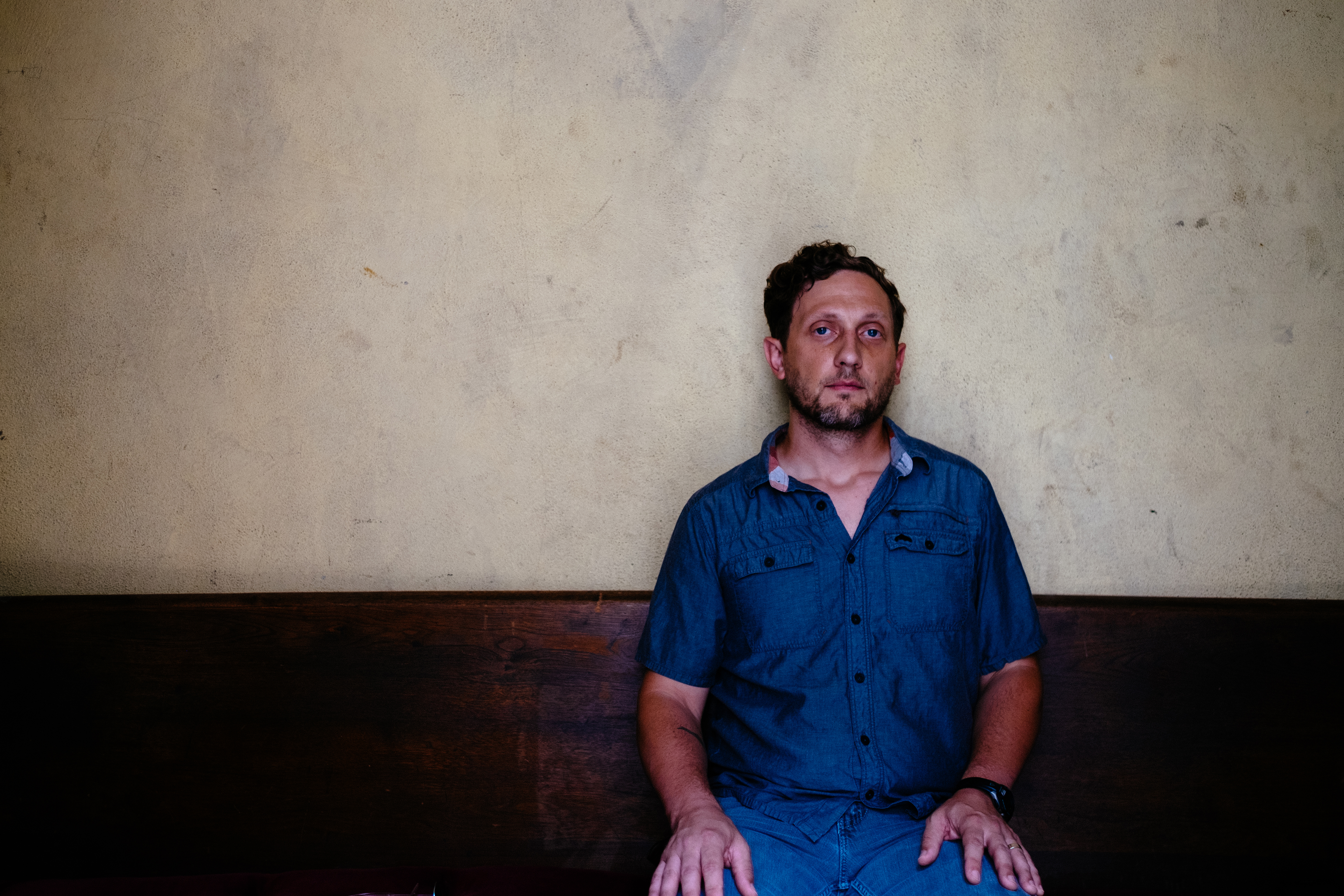 Dave Coleman has recorded a solo acoustic record, entitled VAULT. The first copies of the album will be available on the Norwegian tour. The songs from the album are solo acoustic performances of highlights in The Coal Men catalog recorded in his East Nashville homes dining room.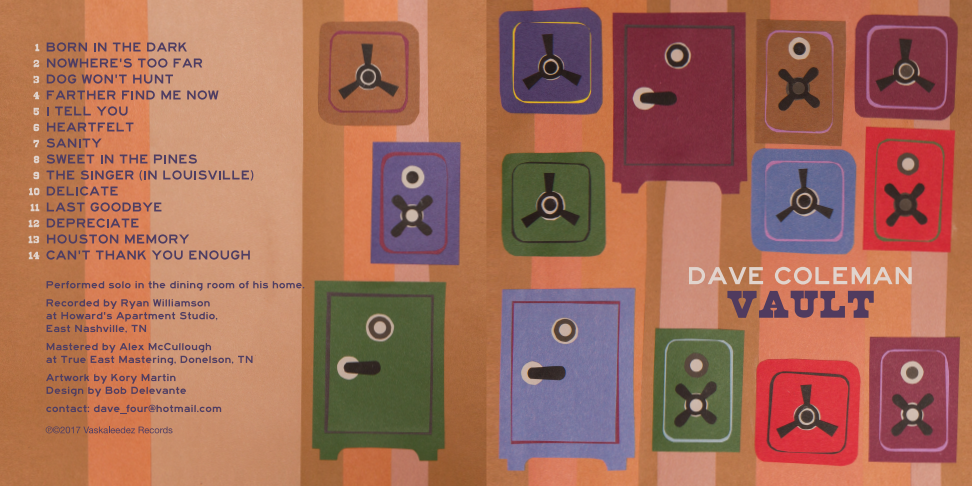 ––––––––––––––––––––––––––––––––––––
Dave Coleman is a singer/songwriter/guitarist/producer/engineer based in East Nashville, Tennessee. He grew up on the Cumberland Plateau in Jamestown, Tennessee. The son of a small town attorney and a National Park ranger, He was isolated in a small town childhood that provided the time to pursue guitar and recording. His young talent found him with a publishing deal at age 20 at legendery Acuff-Rose Music Publishing. After two years of writing for a living, he struck out on his own with his band.
Coleman founded his band The Coal Men in 1999. They have forged there own path releasing five Roots Rock/Americana albums and touring across the U.S. and overseas in Europe. The Coal Men released Pushed to the Side in August of 2016, and it reached 32 on the American Radio Charts. No Depression writes there newest album "is a country record made by three guys who clearly have a deep appreciation for country music, and for that, it deserves your attention." The work focuses on the core (3 piece band), Dave Coleman singing and playing guitar, Dave Ray playing drums and singing background vocals, and Paul Slivka (Tommy Conwell and the Young Rumblers, Tommy Womack, Amanda Shires) playing bass. Songs of the band have been featured in the Discovery Channel's Deadliest Catch,FX's Sons of Anarchy, and ABC's Nashville. Todd Snider calls Coleman "one of Americana music's great songwriters."
"Coleman, is a distinct yet versatile (that's a tough trick) guitar force. In his 20s, some folks talked of him as a budding Kenny Vaughan or Buddy Miller, and he's now squarely in that league. He makes a three-piece sound like a five-piece, never relying on the kind of silly, flurried-high-note tricks that draw applause without providing substance. His tone is unassailable, and he is essentially producing as he plays, subtly answering vocal lines, bass riffs, and even drum fills with pretty-as-you-please six string responses." – Peter Cooper
A large portion of Coleman's time now is devoted to producing and recording albums for notable indipendent artists like Amelia White, Rod Picot, Stephen Simmons, Bob Delevante, Ned Hill, and Reagan Boggs at his Howard's Apartment Studio. Touring solo has always been an exciting challenge for Coleman, He is in the process of recording a solo album consisting of his favorite Coal Men songs as a companion to his Norway tour in the Fall of 2017.
Website: www.thecoalmen.com & www.davecoleman.biz
Facebook: www.facebook.com/theCoalMen/
Instagram: @thedavecoleman
The Coal Men will release Pushed to the Side August 19, 2016
You can pre-order the album at ITunes or at our Band Camp site
Keep up with us day to day on our Facebook page.
____________________________________________
Listen to the song premiere for "Depreciate" at American Songwriter
Watch the video premiere for "The Singer (in Louisville)" featuring the band member's wives at the Tennessean.
____________________________________________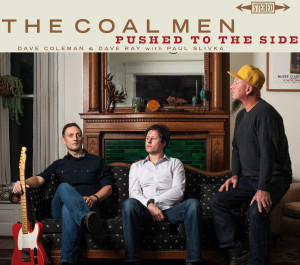 NASHVILLE ROOTS-ROCK TRIO THE COAL MEN
MINE LOST SOULS
ON PUSHED TO THE SIDE, RELEASING AUGUST 19, 2016
Dave Coleman, Dave Ray and Paul Slivka examine life, loneliness on 12
atmospheric tracks, including one co-penned by Americana legend Bob Delevante
NASHVILLE, Tenn. — As excited as Dave Coleman is about the August 19, 2016 release of Pushed to the Side (Vaskaleedez Records), the fifth full-length album by his Nashville roots-rock trio the Coal Men, he's also harboring an unusual fear: that the story of "three solid dudes trying to make really honest, genuine music" isn't sexy enough to pique journalists' fancy.
Please, Mr. Coleman, have a little faith. Truth is, there are plenty of angles here, including several in these excellent songs (which we shall explore in a bit, perhaps starting with the sad electric twang of "Faithless Eyes"). But it's not as if the Coal Men's history lacks for hooks. For starters, guitarist/vocalist Coleman and co-founding drummer/vocalist Dave Ray have been together 17 years; Coleman's also played with artists including Matthew Ryan, Jessi Alexander and a young Taylor Swift. Bassist Paul Slivka, who joined five years ago, gained fame with Tommy Conwell & the Young Rumblers; he's worked with Tony Joe White, Tommy Womack, Amanda Shires and Elizabeth Cook, among others. Most Tuesdays, he appears at the Family Wash with his wife, Cole, host of the "Short Sets" songwriter series. Coleman's a regular.
And a band mentored by both John Prine and Todd Snider must have plenty of anecdotes about those experiences (even if some must remain, um, unreported). Prine helped distribute the band's Bob Delevante-produced debut, 2004's Nowhere's Too Far, on his Oh Boy label; Snider pushed their 2013 album, Escalator, via his Aimless Records, then took them out on tour. They've also opened for the Avett Brothers, Darrell Scott and Chris Knight, among others.
Then there's that Delevante link: in the '90s, the Delevantes were at the forefront of the burgeoning Americana movement. Coleman, now producing at his own Nashville studio, Howard's Apartment, recently shared a full-circle moment by helping Bob Delevante produce his new album there; he also plays on it with Ray and E Street Band bassist Garry Tallent. Coleman and Delevante also co-wrote Pushed to the Side's sweet "Stones River." "He's been a father figure to me, teaching me a lot about how to treat people and handle the music business," Coleman says. "That song is a metaphor of that kind of connection."
Another hero, Buddy Miller, is also an advocate. Early in Coleman's career, he played bass in his guitar teacher Duane Jarvis' band, which opened a Buddy and Julie Miller tour; after Buddy became music director of the TV show Nashville, an Escalator track landed in an episode. Sons of Anarchy also featured two Coal Men songs, and their "Farther Find Me Now" heightened a key moment in the reality show The Deadliest Catch.
It's just watery coincidence, however, that the band makes seven Key West trips a year for week-long residencies at the famed Hog's Breath Saloon, a nearly 12-year tradition that began with an invitation from the Mavericks' Paul Deakin and Robert Reynolds. The trio tracked Pushed to the Side during a stay on Florida's tip, at Lance Taylor's Southernmost Studio.
"We were playing really well together, very much in sync," says Coleman, who produced. "We were also pretty exhausted from those four-hour sets. I think that helped us settle into these atmospheric and moody tunes."
They're atmospheric and moody, all right; their protagonists forlorn, displaced, drifting. Coleman wrote them solo or with co-authors including Stephen Simmons, Seth Timbs and Jeff Wickland — a lover of Southern Gothic tales who shares credit for the lost souls of "Willy Jett," "Lilly Hurst" and "Travis." Their lonely spirits hover throughout the album.
"It's not a concept record," Coleman explains, "but the narratives of being pushed to the side, of being on the fringe or alienated; they're part of the story of the record." That includes the Nashville experience itself, as intimated in "The Payoff," a faster-pulsed twanger about trying to break through in a town where too many people make music for the wrong reasons.
Cynicism also infuses much of "The Singer (in Louisville)," which Coleman based on a story Womack wrote for Based On: Words, Notes and Art From Nashville, a book/CD collection of stories, songs and images inspired by one another. Coleman produced the music (contributors include Phil Madeira, Griffin House, David Mead and Brooke Waggoner) and knew the electric friction of the Coal Men's "The Singer" belonged on Pushed to the Side.
The Bakersfield-nodding "Speeding Like a Demon," which Coleman calls "total hillbilly," conveys the flip-side "comical craziness" of road life. "It's our homage to Jason & the Scorchers, taking traditional country but revvin' it up in a three-piece rock 'n' roll band that's influenced as much by Hendrix as Hank or Webb Pierce."
A beloved van serves as the metaphoric vehicle in "Depreciate," which ponders fate with an understated jazz/twang. "It's really about growing older gracefully, and trying to find your self worth," Coleman admits. "That's part of what this band has tried to do. We've always been committed to being who we are and not chasing trends."
Though Escalator featured A-list Nashville talent, Coleman avoided guest stars this time to focus on production for the trio. Half of the tracks contain only vocal overdubs; others received slide guitar, pedal steel and similar shadings back at his home studio. "I wanted to embrace the air; there's moments where there's just color, like a triangle note. I tried to be deliberate, to play the right part for the song." He says. "That's my mantra."
An expressive baritone vocalist (he claims Tony Joe White as an influence), Coleman also loves baritone guitar, which he applies to great effect on the title track. Its snaky tempo sets a groove that drives lyrics bound to break the hearts of sensitive listeners. But the album's dark moments are buoyed by tunes like "Fast Rider," a sexy, funky ode to his wife.
"We're just telling stories," Coleman says. "And it felt good to tell these."
The Coal Men's story starts in Jamestown, in rural East Tennessee, where Coleman grew up near the Big South Fork National River and Recreation Area. He thought he'd join his mother as a park ranger, but once he hit the stage in a local band, music took over. Switching to country when the town's few rock bands petered out, he fell in love with Marty Stuart, Dwight Yoakam and Billy Joe Shaver. In 1997, Coleman headed to Belmont University in Nashville; he also began studying with Jarvis, Yoakam and Prine's go-to guitarist. At 20, Coleman got hired to write songs for famed publisher Acuff-Rose Music. He also birthed the Coal Men with Ray.
"I had all these songs and nobody else was gonna sing 'em," Coleman explains. "So I started a band to showcase them, and somehow, we've carried on for 17 years."
Links
thecoalmen.com
facebook.com/TheCoalMen
twitter.com/thecoalmen
davecoleman.biz
# # #
American Songwriter broke the news with a song premiere: "Depreciate": http://bit.ly/29lYh73
For more information about The Coal Men, Dave Coleman or Pushed to the Side,
please contact Conqueroo:
Cary Baker • (323) 656-1600 • cary@conqueroo.com
The Coal Men proudly endorse:
D'Addario guitar strings, Planet Waves cables, and Evans Drum Heads.
www.daddario.com – www.planetwaves.com – www.evansdrumheads.com